Necessary phrase... marriage not dating ep 11 eng share your opinion
Posted in Dating
Hey all! Some new feelings are discovered, and some relationships begin to take a turn for the better. But just when things are looking up, the Green-Eyed Monster rears its ugly head to ruin everything. Ki-tae stands in the middle of a tea-candle heart, surrounded by heart-shaped balloons and holding a bouquet of roses. Back in the present, Ki-tae and Jang-mi have been on their knees for quite some time in front of Grandma, who upbraids them for lying about being engaged. Jang-mi tries to explain that she understands how Ki-tae feels about wanting to be alone, after experiencing his family.
Part of that might be his acting, which I am not impressed with. To me, YR comes off as 'deliberately cool' - not putting himself out there too much in case he gets hurt. He's not as expressive an actor as the guy playing Ki Tae, but I think it works. When I went back and rewatched eps, I did notice that in scenes with the three of them, Jang Mi's eyes are almost always following YR he is easy on the eyes, I must admitand her body language changes whenever YR comes over.
Ki Tae will have to put some serious effort into it if he intends to make that fake marriage real - starting with not insulting her. Given it's a Kdrama, the male lead will eventually sink my preferred ship, but I can dream.
I went back to read some of the character synopses that were distributed. They all say that YR has an aversion to commitment which comes from being abandoned by his mom.
He had no intention of getting married, but he unexpectedly starts to fall for JM.
Marriage not dating ep 11 eng
Trust me, you are not the only one After this I NEVER want to see her in that family, no redemption is possible after the emotional abuse that everyone is complicit in - even her own mother! Han Yeo Reum deserves some serious apologies for waiting and standing by her thru this madness and he puts aside his own annoyance after being ditched to smile and feed her takeout - best boyfriend ever!
Gi Tae pales in comparison - last episode should have been the last straw with him to have it out with his mother but he takes his anger out on JangMi - No Way! I'm totally with you guys!!! I love Yeo-reum and I think he's exactly what Jang-mi needs right now.
I think he's the perfect rebound for her: he's hot, sweet, talented and will ultimately be OK without her once they break up. And who seems to as of now interest our heroine a hella lot more than the lead! As it is, I don't think that they would work out in the long run. If anything, the funny scene with Yeo-reum running around Ki-tae's apartment doing exactly the same thing that Jang-mi did her first time there shows how similar they are if they're fear of abandonment didn't give it away.
It was Yeo-reum that comforted her. She's been having a few horrible days of dealing with Ki-tae's mother and all Ki-tae, who should know better than anyone else how impossible it is to escape once the woman decides to control you, only offers criticisms and absenteeism.
It's Yeo-reum who steadily waits for her and offers support. I know that once Ki-tae changes his tune, I'll be happy when him and Jang-mi finally get together and not just for the all-you-can-take plastic surgery her mom will be able to enjoy but right now that boy does NOT deserve our girl. Go, Yeo-reum! Ahhh exactly what I've been thinking!
I know that eventually KT and JM will be together, and as long as the relationship dynamic changes and, as was said, it includes more respect. No, I don't think he's a forever soulmate, but he's certainly the right guy for her to pick at this point in the drama.
KT, on the other hand, has been a jerk. I believe he'll eventually redeem himself, but at the moment he totally does not NOT deserve JM and I'm glad that she's not feeling the love back at this point. He's got to earn that! You're not alone but definitely less than I thought there'd be.
I think you guys will have a field day next episode. As will we all, 4 way hijinks are going to ensue. And a kiss maybe i hope not. When Ki-tae speaks, I get the sense that he's saying exactly what he wants to say, but when Yeo-reum speaks sometimes not always though it feels like he's thinking to himself "what does this person want to hear?
Now this is interesting because this is exactly why Yeo-reum is the right choice for Jang-mi right now. He knows exactly what she wants to hear, but it also oddly makes him feel very surface-deep for some reason. When Jang-mi and Ki-tae interact it feels like there's give and take there, like they're not afraid to say what they want to say. I think that Ki-tae simply needs to learn a little more about saying and doing what Jang-mi needs once in awhile, instead of just saying whats on his mind.
If he can do that though, I'm rooting for him completely. I think that's why I can't understand, and therefore like, his character. There have been very few moments where I felt like "Aha, there's his true feelings flashing through". I don't know if this is a failing of the actor, a failing of the show, or a deliberate choice by the show, but it's making me pretty frustrated. I understand the other characters not knowing his true feelings, but the audience is just as in the dark. Maybe soon he'll have a complete breakdown and reveal he is truly an infamous serial killer!!!
Muahahahaha Or you know, that he really loves JM or something Very well put. I think jm sees her dad in kt since his parents are outspoken to one another while kt family is hiding within themselves from being diacover. I see yr as kt dad because he is all surface. While being harsh actually wants jangmi to come out for the better. Each meeting the have had there hasn't been any true conversations.
With kt and jm they talk more about their deeper roots. I can't handle her with Yeo-reum much longer, so that last scene basically made me go fsjfkwoeifueoisfs. I think i lost about 10 hair strands there.
Its not like I don't like Yeo-rum as a character, yes he's a bit charming at times but i have a feeling that he's not just that into Jang-mi, its like what he said a few episodes back that he's intrigue as to why are those guys interested in her.
Its like he's just testing the waters with Jang-mi. On Jang-mi's part as well, i think she's not really in love with Yeo-rum, he's just a breath of fresh air and she's having fun but not really in love because when she's with him, its like she's not her total self unlike when she's with Ki-tae. She's probably attracted to lighthearted, superficial men because of her parent's incompatible relationship. But what she hasn't fully realized yetis that a superficial relationship will ultimately end up being just as unstable and painful.
YR might be fun and all but she is someone that tries to go deep into relationships to me. There is sth that confuses me: Why can't she say: "I'm in the throne room. Let me call you back. Also: "I'm working now, and can't leave my post to go shopping with you.
Meet on my day off or after work. Why put up with All those "Jang-miiaa"? Beause she is JangMi. Right now, she is so deperate to please people that she doesn't know how to reject them and her journey to eventually being able to do that will probably be one of the main highlights in this drama's plot.
I know right! I keep thinking they've forgotten that this is FAKE and that they want to end this marriage. I don't understand why she's trying to please his mom when she should be trying to break up the marriage and lose her approval by being disagreeable. Don't buy the thermal mattress and tell her that you can't go to acupuncture!
Tell her no kids! Get GiTae's mom mad! I just don't get her logic. So frustrated! Also, I don't mind YR at all, I actually feel bad for him because he's super sweet and Jang Mi keeps missing their dates and being a horrible girlfriend. Yes the actor isn't great, but based on the plot, the poor guy is totally getting shafted by JangMi.
JangMi - stop playing the 2 guys and figure out what you want! Because that's not who she is. She's a people pleaser.
Of course for the sake of the comedy it's turned up to the next level, but there are actually people like that I know some of themso it's not like the whole idea of it is unbelievable.
And it's not like Jang Mi is doing anything inconsistent with what has been shown to be her character. I notice that you keep asking why don't the characters do this and why don't they do that The simple answer is because if they did, they would be different characters and this would be a different story.
And obviously one more to your liking. If a viewer is halfway through the show's run and they still can't reconcile themselves to Jang Mi being a pushover and Gi Tae being emotionally backward, then maybe it's just a case that this isn't the show for them. I think you are right about the "people pleaser" syndrome she has.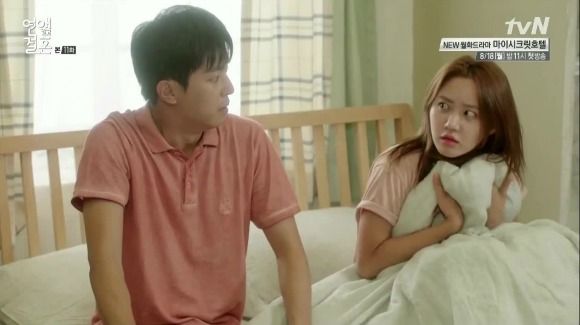 And she does not realize yet just how crazy it can drive people around you. Many years ago, in another life, I had a girl I was going with who was positively afraid of even saying what she liked or not - I never knew where she stood on anything, and it drove me crazy. That lasted less than 7 weeks. KT's mom has decades of manipulating experience, Jang-Mi has close to zero.
But I think that Jang Mi is learning fast, at least I hope so. Thanks LollyPip! OMG SeAh is getting on my nerves. I was so surprised when I looked her up. She is Jenny from God's gift.
Regardless, though she needs to lose the "I am gonna keep using the flashdrive card to get what I want. I am getting to the point that I fast forward through her scenes when she's wallowing in self pity. Sorry for this rant. Other than that, I love this drama so much. I cannot believe it is so funny. And, evolving very well. I can't wait for the evolution of that one cold open. Se ha hasn't had as much screen time but I'm not hating her character.
If she was truthful and admitted that she was hurt it would be a different story. I would agree with you There isn't really any coming back from that, imo. I am loving this series the last scene broke my heart when she went to YR but I guess this is the first step she is taking and going with her heart. I just hope she realizes in the next episode that her heart is with GT as I cannot watch any more scenes with her and YR. I dont know if they're fully in love or what, but they seriously care for each other that it's hurting me too haha.
?? ?? ?? - Ep.11 : ??? ?? ??(?)? ??!
Gi Tae made quite clear he quite liked her from a few eps back and Jang Mi also worries about him. But when Ki Tae was taken aback by her beauty and feeling bad for the situation, and Jang Mi cried when she heard Yeo Rum instead of Ki Tae say the words, it's quite a done deal. I'm not losing faith in Mum just yet. I dont know why but from the beginning i had this feeling - maybe she sees herself in Jang Mi that she wants to save Jang Mi from whatever hell the family has in store so that JM doesnt suffer like her.
Gaaaaah, Ki Tae saying he hates the beach but that's exactly what he does next episode when he chases after the bride and her runaway lover! In the beginning of the preview Hoon Dong is there too, but then we see Se Ah after that.
Well, may not be quite the trip she wanted with Ki Tae, but it's something! Haha, I really hope she stops being manipulative and maybe she can just be a friend that makes KT realise that not telling your feelings for the sake of pride is no use. Oh and if the episode is gonna be full of our leads playing the jealousy shenanigans, I'm soooo in. This is gonna be fun, cant wait till next week!!! I agree with you, diba. We may be misinterpreting her words and actions around and about GT and JM.
Of all the characters, JM is the only one who tries to talk sense to her. JM's biggest weakness is she wants to understand and please everyone. She sees KT Oma as sad and lonely and wants to help. While JM lets herself be pushed around, when it gets to shove, she rallies and pushes back. I loved the interaction, for example, in front of KT's house between them. THAT's the best reason you can come up with? Not, that SA is a bright little thing whose company you enjoy?
She IS pushing her out of the nest before JM has time to get hurt. I would love just an episode with only Jang-mi and Ki-tae in it. Put them in a room, and give me an hour of honest conversation between these two. That would make me happy and less seething. I really like this show, but I'm at the point of beyond frustration.
We're halfway through now, and yet I feel no forward movement. Jang-mi and Ki-tae have not professed their feelings in fact, I have yet to see more recent signs from Jang-mi of her feelingshis mom has gotten worse sadly, and I agree that her character would be wasted if she continues down this typical mother-in-law pathsecond-lead guy remains uninteresting and ineffectual take him out, and I wouldn't even noticeand background characters have seemingly disappeared even resident bitch, Se-ah, had little screen time.
And I would've been fine with that ending scene if she hadn't just run off in the wedding dress. I get the drama of it, but it felt silly to me. I totally jinxed myself when I said it couldn't lose steam. I'm feeling it, but I'm still hopeful that this second half will gear up and charge forward.
The drama's funny as hell, and i'm loving the whole plot but really, i'm hoping for progress. Plus, tbh if i'm in jang mi's shoes right now, i'll prolly not fall for Gi tae at all.
That last scene was so painful to watch. I thought it was interesting to note than Jang Mi was doing fine in the wedding dress shop until she called Ki Tae to come help and got Se-ah instead, going on about waiting for him to wash up and whatnot. I think that played a big role in that big question she asked "who am I doing this for? Then she runs out and there he is and she's "standing in front of the guy" and she realizes she desperately wants HIM to do or say something to make her feel better and they're having their moment.
And the mom duo I'm angry with JM's mom too come in and she just wants to get out of there. Then YR is there to be her escape and do more of the grand romantic gestures she wants from her love in theory but in reality it's not him she wants it from.
I really can't wait for next episode. Great input. I thought those two scenes were important to jang mi breaking apart and jus running off in the opposite direction. I like that when kt tells her to stand up she listens to his suggestions instead of always pleasing people. I can totally see why she ran in that direction. Gi Tae - argggh he didn't grab her! The fact Se-Ah can still come and go as she pleases, and climb onto his car YR - while his ever present smile is somewhat sickening, I can't say I immensely dislike him either.
Lollypip ur right about the whole self-respect thing! She has no self-respect and her parents don't help I mean really!!!!! I hope she gets what's coming her way!
Recent Posts. Memorist Episode 14 English Sub; Find Me in Your Memory Episode 11 English Sub; Meow: The Secret Boy Episode 10 English Sub; Hospital Playlist Episode 7 English Sub. Marriage Contract, ?? ??, Wife of Days, Watch ?? ??, Wife of Days, ???? eng sub, Marriage Contract online ep 1, ep 2, ep 3, ep 4, watch ?? ??, Wife of Days, ???? ep 5, ep 6, ep 7, ep 8, ep 9, ep 10, Marriage Contract dub drama Cantonese, watch Marriage Contract ep 11, ep 12, ep 13, ep 14, ep 15, Marriage Contract drama ep 16, ep Aug 09,   ?? ?? ?? E11 - ??? ??? 2am ?? ??? ??? ??? ??? Secret Han Sunhwa Jinwoon Han Groo Yeon Woojin Yoon SoHee/Sohui Heo Jeongmin Gong Kitae.
I don't know why I keep searching for the next episode when I know it isn't on for a couple more days I am guessing this is not realistic employee behaviour Her boss has pretty much given up on her since she's going to quit to marry a doctor anyway. HD has come for his car so we know he might do a little cockblocking for KT even though crazy cakes Se Ah is still here.
Jang Mi's mom is such an easily swayed character that even though she really should wash her hands of these peopleshe can easily be convinced to keep the wedding on. It looks like Jang Mi is a little jealous from the way she watches Ki Tae and Se Ah interact and then urges Yeo Reum to do romantic stuff with her, too. And even though it looks like Jang Mi and Yeo Reum might kiss again, it kinda looks likes she's hesitating so she might pull away or they get interrupted. I think the writer likes Yeo Reum too much because Ki Tae and Jang Mi have really not had enough cute moments yet this smiling asshole gets a scene with her literally every episode.
I am expecting JM to pull away or at least for it to happen and her realise there is no chemistry there. He would just be sitting on the sidelines helping JM with her happiness With him smiling and her glowering at him. Yeoreum and Hoondong are the two accounts that Kitae's account is following. It kind of bothers me that Im Ye Jin plays the same type of mother in almost every drama.
I know there's a formula and this is Dramaland but I just want the mother in this drama to stand up for her child. There's no way I'd let someone do that to my daughter, in-laws or not. Socio-economic status be darned. I agree. I can see how Jang Mi might get railroaded into it for a while, but I thought it was really sad how KT's mom also walked over her mom. And even worse was how JM's mom just put up with it all - makes me wonder if JM got some of her characteristics from her mother.
I can't believe I'm now once again stuck in an ongoing drama. The pain of waiting for another week. Aside from the hysterical banter and nice chemistry and all the nice things this drama has to offer, I think I got sucked into it more than I originally planned to because I can somehow relate to Jang Mi for wanting to please everyone but herself.
I don't know if it's just me being a smarty ass-wannabe but as an only child, I share that as well. There's this belief in between us the only child ren that we are somehow expected to be spoiled and self centered all the time.
To break the stereotype I try my hardest not to think of my needs and my wishes before I fulfill all of my friends' and my families'.
It's simple logic, for me, you know. Which usually, ends up in my getting hurt all by myself as well while none of the others really know how I felt the entire time I was pleasing them. But still, I would like for Jang-Mi to let herself grow into the woman that she is meant to become in the next remaining episodes.
And Ki-Tae, oh, Ki-Tae. Do I have a bone to pick on you. You clearly love that girl and you know you do. If he's still acting dumb and pretend like he has no hard feelings in letting Jang-Mi slip away from his hands, then we will seriously have a problem to discuss next week, dude.
Break my back and go out of my way to make things perfect for my mother, or other people You can see so many different emotions flash through GT's face during the last scene. JM only wanted to hear, "You look pretty" from her love, but his eyes said so much more than that! If only he had voiced it out. Alas, that's why the writers write and we watch avidly.
Can't wait to see what they have in store for us next week! Thanks for the awesome recap as always, LollyPip. I kept refreshing this page after watching ep. Has a drama ever been so good and so infuriating at teh same time? I still love this show, but I'm beginning to get a little frustrated with Jang-mi. It's just that she's affixed her attentions to a new almost as unworthy, imo target. People are split on whether they like Yeo-reum, but I think we can all agree whether good or bad, she basically likes him because he's cute and he said he likes her.
Whereas the one she connects with, tells her secrets to, makes herself vulnerable for, is actually Gi-tae. You hit it right on the nose when you said that what she needs is to start respecting herself.
Not in relation to Gi-tae, but with his mom, with Yeo-reum, with everyone else. What she doesn't understand is a life lesson we all have to learn at some point - that being too nice will get you walked all over, and that you have to love and respect yourself if you want others to love and respect you. Even though it crushed both my and Gi-tae's heart. This week left me so frustrated. I feel like the whole time, all Gi Tae does is let Yeo Reum snake his hero moments!
First with the hug when Jang Mi was locked in his office, and then at the end of this episode when all she wanted to hear was that she was pretty!! When she ran to Han Yeo Reum, I seethed so much.
I agree with some of the other people who have pointed out that it was after she talked to Se Ah that she got fed up and it wasn't until Se Ah came and stood next to Ki Tae that she ran into Yeo Reum's well, Hoon Dong's car so it's most likely jealousy on top of the stress from KT's mom that drove her to him. Sink to the bottom of the ocean and get eaten by a cracken. Ki Tae's twitter account ated with some selca's of our OTP at the beach so I'm looking forward to some hilarity as well as Se Ah taking the hint that he doesn't care about her since he refused to go to the beach until that was where Jang Mi was She seemed jealous in the preview, telling Yeo Reum to "do romantic stuff like them" which seemed to be like showing off that they were just as lovey dovey to piss of Ki Tae.
If so, I'm totally on board for the next episode! Remember how in ep. I guess they thought it would be a cute PR thing to have the account be real so all the pics are up there.
There are 3 pics from ep. I'm pretty sure only Ki Tae has one, though it would be adorable if they made one for all the characters and did little conversations to give us hints for the new episodes or stuff like that.
Hands down, my favorite show right now. I had high hopes for the Crazy Mom - JangMi line to flesh out, but also had a tough time empathizing with CM this episode. Come on weekend! My goodness! I have been waiting for this recap so I can put my two cents in! Am I the only one who is pissed off at the kdrama world right now?
First tout lovers Those darn ex girlfriends!!! They are just so weird Now she wants to shoe her true feelings? If I met someone like her Crazy witch!! That mom You wonder why your son does not respect you! I'm right there with you about Dramaland this week. I've also had it up to here with our exes in most of the Dramas I'm watching simulcast glad Joseon Gunman doesn't have this situation because I just know Se Ra in Fated is about to throw some unhappy at the leads in that.
But, I digress. I'm hopeful that this coming week the writers step up the cute couple time for our main pair! Forced trip to the gyno shoulda been a deal breaker. Demanding she quit her job shoulda been deal breaker 2. I think my favorite part of this episode was the silent conversation JM and GT were having at the dinner table with the family. The facial expressions are priceless.
Does anyone else think that GT and JM are going to find what they need in a parental figure in each other's parents and not their own? Unfortunately, Ki Tae doesn't want to admit to her yet so he instead talks down to her or yells at her whereas, Yeo Reum seems romantic and more attentive to her which is the opposite of Ki Tae.
Then Ki Tae and Se-Ah showed up together at the wedding dress shop afterwards, so what is the poor girl going to think? Her dream was to have the person she love tell her she was pretty in her wedding dress, but he drags his former girlfriend with him there. Even I would run away from him. Hopely, Ki Tae fesses up and stop making Jang Mi go nuts with his pushy mom. Even though his family may be rich, they are definitely not all that great a family to marry into.
I think Ki Tae's mom is spooky. It was so weird that jang mi wasn't smiling or giggly when she was reminded of the kiss when talking to kt like she was with hyun hee. It seem like she was either saving herself or his feelings which gave me hope throughput the episode.
The scene of them scheming and plotting to stop kt mom in front of yr because she totally forgets yr when she is enjoying her time with kt. I wanted more scenes of them alone but now yr seems to be in every shot. His actions aren't always right but he seems to be turning the tide.
Once he stops using her for his own gain will she realize that he truly cares for her. With the previews from recent episodes they always trick or turn the situation like the we starting our love today which turn out to be a joke. I hope theses previews are the same. Congratulations, show: you've entered crack status for me.
It's been a while. Why is it not Friday yet!? Hurts so good Also, Jang Mi is adorable. First time I've seen Han Groo in anything, and I totally have a drama crush going. The problem with Jang Mi is that she is such a people pleaser.
She knows she's in a fake relationship and she has free reign on making herself look bad in front of the in-laws but she just can't do it. I keep waiting for more backstory about KT's house situation and why he wants to be alone so badly. I think when he shares that with JM it will be a turning point in their relationship. I also miss their banter about relationships and if being alone or with someone is better.
The way YR said that JM had fallen for the story about being abandoned by his mother made him look so bad. He seems willing to use whoever he needs at the moment. JM looks too adoringly at him right now for me to see how they are going to switch it over to KT quickly and that makes me sad. See, I saw that as YR defaulting back to 'keep it light' in order to avoid being hurt. Remember his line from before about how if he's serious, people tell him he's being too heavy.
For me, this scene reinforced how much he and Jang Mi are alike, in that they shape themselves to be what other people expect. Both of them learned this as a survival trait - it's just that YR is better at it because he grew up without parents, unlike Jang Mi's loving - if incompetent - family. Some thoughts on the last 2 episodes: - I know it's pretty standard in kdrama land but i wish that the drama didn't have KT drive quite so recklessly in episode 7 on his way to rescue JM.
In the end it's not too big of a deal, but the scene would have resonated with me more had he just been speeding and was shown to be frustrated and impatient when hitting red lights I mean her life wasn't in any actual danger.
Made it too dramatic imo, what with their choice in music and having the table along with the soup topple over under JM's weight as she searched for her phone.
That might have been true to some extent, but she was probably more confused and upset that while she's having to go through all of what she's been going through, he's doing god knows what with a person that has a lot to do with why they're doing all of the fake relationship stuff in the first place.
All this probably had a lot to do with why she wondered "why, and for whom, am i standing here" and then ran off. I think some people have a problem with how they had her just run off in the dress, but really, she finally cracked and just wanted out then and there without having to say anything or explain herself or deal with any more of KT's mom's shit. I guess KT and her could have driven away together, leaving everybody else behind, but this just wouldn't have made any sense for JM's character at this point.
Though maybe that's what would have happened if YR hadn't been there. She's maybe wondering what the hell she's been thinking, to have let their fake marriage progress to this point I hope she still thinks that the relationship was fake from the start and that his feelings have developed along the way and are one sided Either way she's a crappy mom, but at least in this situation she wouldn't be trying to break up a real relationship between her son and a girl that actually loves him.
She really is being unbearably terrible to JM, and I did enjoy the unlikely family situation of sorts that the 3 main characters had going on in parts of these episodes. I agree with you on the car crying scene. I think everything just hit her at once, and being told she was pretty was just the final trigger. Spot on analysis of Jang-mi at the end here. She needs to stand up for herself! She deserves to take care of herself, and have others take care of her. She was misled to think that KT was with SeAh.
Currently Airing
I think that was the breaking point for her, for why she chose to go with YR. She should've have listened to gt when he asked her if yr asked to officially date. If a guy wants you, the first thing he wants to do is take you off the market. So what if he said he likes you and kissed you already.
That's why even though the show has them dating it feels like they're just close friends hanging out. Yr is too smiley and too into keeping things light. I also don't get why he even dating jm. If he was perceptive enough to know that gt was sincere but jm wasn't, then by now he must know they're both sincere with each other.
That more than likely, gt and jm feelings are mutual just that jm doesn't realized her true feelings yet. Come on, whenever the three of them are in s room, he's suddenly the odd man out when ft and jm.
Unless he doesn't want to admit that there can be a woman to slip out his grasp since he grabs so much attention wherever he goes. And jm mom at the bridal shop pissed me off. How can she just agree with gt's mom like that? How can she not defend and support her daughter?
Must she watch say yes to the dress to see how it's done? Unless he don't want to admit there can be a woman who's not really interested in him because he grabs people's attention wherever he goes. And jm mom pissed me off at the bridal shop. How can she just go along and agree with gt mom in tearing down her own daughter?
How can she not defend and support jm? Does she need to watch and study say yes to the dress to see how it's done? I can't stand YR like seriously. I'm not exactly sure if its the actor or his character since I hated his appearance on RM too.
I really wish KT could stand up to his mom like "hey, are you happy now that my bride ran away with another guy? All the craziness you've been shoving down her throat serves no purpose but drown and break her down into a woman unwilling to marry your son.
Isn't her a living example? I don't get it sometimes, do mother-in-laws in KDrama always do this? Mistreated and knowing how awful it felt but still continuing the cycle and inflicting the things they hated on someone else? I just want my OTP. So many feelings over the ending, I just can't say anymore.
I am just gonna add I am freakin' dying. I can't with the second leads anymore. But damn it, I hate them for cockblocking OTP. I still freakin' love the show. Han Groo and Yeon Woo Jin are amazing as usual and that damn chemistry of them. Thank you for the recap.
Jang Min needs to sit down and think about what she wants to do and her own future. Seems to me she is reacting to all kinds of situation and trying to please everyone. A period away from KT and YR may be good.
For some reason, I am not convinced about YR as a character. KT, step out of your comfort zone and grab the nice and real Jang Min before she gets away. Looking forward to the next episode. Hopefully a respite from the MIL. KT's mom sure is a layered and deep character but I think she is taking away from all other side characters, they have been left in the shadows. JM's parents have somewhat strong standing but even they are out shadowed by one woman.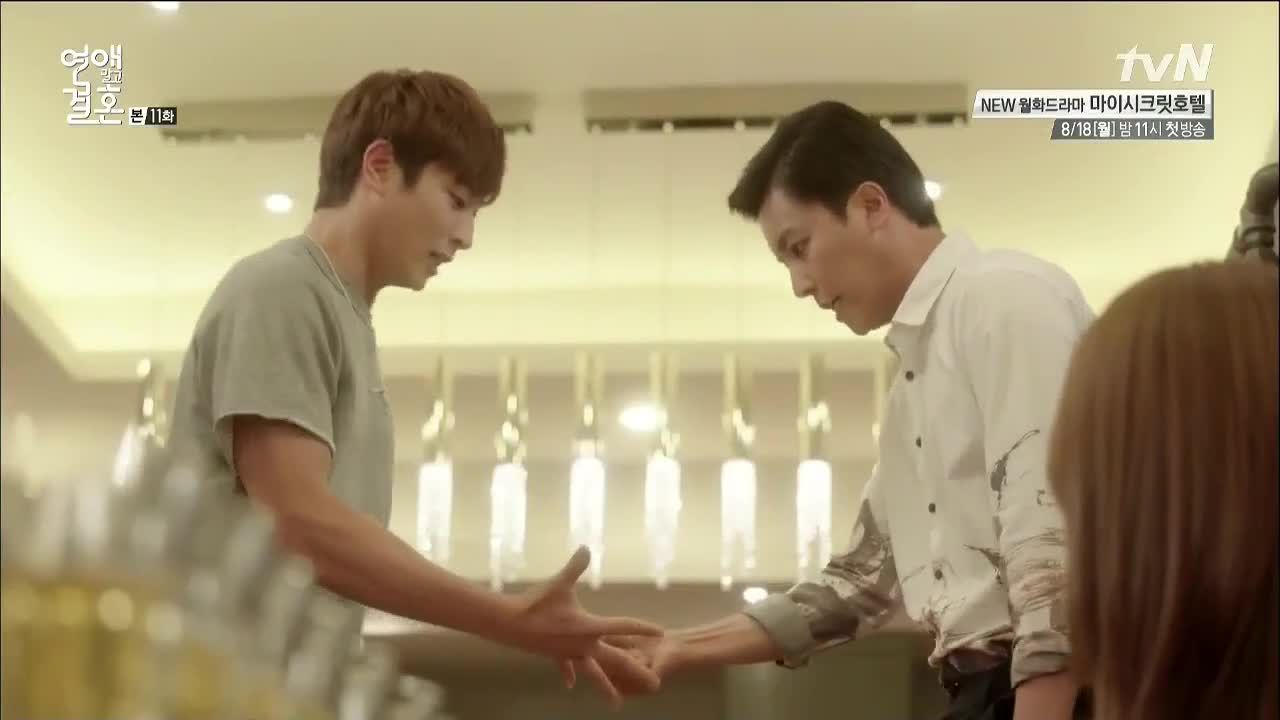 Even SA has been sort of left behind. I enjoy watching JM's and KT mother's interaction but it bothers me that it's taking the whole time in every single episode. I seriously dislike YR and that stupid smile on his face. He still feel sketchy and suspicious. It's hard to understand what he is thinking and that makes him so flat and boring. Him being abandoned by his mother, that has been mentioned like two times only, KT's mom is taking YR's screen time too.
And instead of doing anything meaningful so we could understand YR better the screenwriter makes him cook pasta in every single episode, seriously. I kind of understand why JM went to YR though.
All through out this episode KT just go with the flow while JM carries all the burden of the fake relationship.
KT did nothing to help solve the problem he shared with JM. Then YR offers an escape that of course JM would take. She's fed up with the situation that she needed a break. I hope KT realizes what position he has left JM in to and face the problem head on, hopefully with his true self and feelings to JM.
Thanks for the recap. Your thoughts have made me see some of the events differently. I actually didn't think she wanted to hear "You are pretty" from KT at all. I thought she was still too blinded by KT's pretty to want that type of attention from KT. What has made me happy happy watching this is the symbolism they are using to show deeper feelings of the characters. It was there for the humor, of course, but also to show how much of a burden she is willing to carry for KT, and how far a journey that will end up being.
It was KT's Mom's evil plan that made her spill it. YR was the one who noted it's value before KT did, and who unbeknownst to him, helped salvage that sacrifice and maintain its value for the OTP. When KT shows regret about the fake marriage, it is after looking at the pot that JM's mother provided to him when he needed comfort.
I also like him dragging JM up the hill on the back of the bike. Now that she is important to him, JM has become a burden. One that he is more than willing to carry, even though it is up a very steep incline. When he put her hands around his waist, he was saying, "Hold on, babe.
It's going to be easier if you are with me on this. He isn't ready yet to complete the job. At least, not yet. KT needs to do some serious thinking and planning to outsmart his mother if he wants to keep JM nearby.
So far, he hasn't made any committment to the relationship. He didn't need to since it was fake. Now that it's real for him, he has to try harder to get up that hill! Oh, well said! Especially the bike ride - he wants the girl, but doesn't want the hard work of relationship-building yet. It's kind of creepy how when Ki Tae is thwarted, he sort of turns into his mother, choosing manipulation over words - but in that bike ride, it works as a metaphor for how exhausting that sort of behavior is, and how it creates an even heavier burden.
And that it takes two people 'peddling' to make a relationship move forward during difficult times. I just thought the bike scene was hilarious, but now that you point out the metaphor I love it even more. Also, did you notice the wilting rose by JM's bed after the parent meeting when KT called her out to meet him? I think that shows a tad bit about her feelings about their fake relationship, but it could also be a metaphor for herself in their fake relationship and she's slowly wilting as it progresses without proper attention.
Wouldn't it be beautiful to see Jang Mi get the 'will never ever leave you' relationship she's always wanted? And in this one, they'd live paycheck to paycheck for the rest of their lives, but they'd have staggeringly beautiful offspring. Isn't that cruel to the girl he loves and would he think JM would be daft not to catch him doing so and expect her to go to him?
I am really annoyed [grrrr But it's perfectly in line for a character with abandonment issues - it's my experience that those people don't take rejection well, and they tend to lash out when they experience a breakup. I literally wanted to scream and punch Se Ah and Yeo Reum in their faces That is pretty much how i felt.
I didn't care much for Yeo Reum throughout this drama but i actually liked Se-Ah. Well, screw you now, bitch! I never like YR either - he seemed like kind of a poser with little personality from the first episode. His grade B acting did not help. Yeo-reum definitely hit the lowest point yet in my estimation.
It was so obvious that what he did was planned that even Jang-Mi caught on. He is now on my Fail list and he should go away. Why did they have to write the story as such. They not only act badly, the character given is also awful!
YR lost complete credibility to me. Ki Tae should have punched Se Ah in her face. And push her out of his heart. I screamed when she stepped in with him. He's too much of a gentleman to use violence to a woman, but I think he's too lenient towards her though. If I were him, I'll insult her bad enough that she'll never want to see me again on her own accord.
I laughed out loud! Gong GiTae is so cute and so sweet. In the beginning of the drama, it would have been impossible to imagine him planning that kind of proposal. I was so disappointed in YeoReum I fully expected that kind of behavior from Se-Ah because that bitch be crazy I'm not sure if it was coordinated and planned out between the two to sabotage GiTae's big moment, but it came at such a bad time.
I'm honestly really sad that I started this drama so early I wish I waited until more episodes came out! Rule 15 of dramaland - Coincidences can and shall happen without any planning whatsoever, and the incidence shall increase in direct proportion to the amount of damage inflicted on the relationship of our OTP. That said, it still doesn't excuse what was very much a selfish, petty move.
He just sabotaged any chance with Jangmi - he had a slim chance to begin with, but now it's over, done, never gonna happen. I agree with you. I didn't think YR and SA planned things together.
I jst took it as the coincidence rule of kdramaland. Ugh, I fast forwarded most of Se Ah's scenes. She grates me to no end. And YoonHee? Well, I don't even have words to describe my disgusts. One word: rapist. I don't see how someone can be that shameless. He and the mistress both. How in the world do you bring out the story of your wife and mistress fighting in front of your sister AND mother?
I was rolling laughing and rooting for our two heroines. Btw, who is the actress who plays the store manager? I've seen my share of boring actresses, but this one tops the bunch. Just wanna make sure I don't watch anything in which she plays a significant role. I agree. I don't think he planned it either. I'm considering the possibility now, but it's not the impression I got watching.
My problem with Yeo-reum is not even that he pulled a move like that well it is, but still. It's that he pulled a move like that He could have earnestly tried talking to Jang-mi, but he didn't.
He could have tried telling her how much he liked her, but no. The moment he finally decides to stop acting passive is not to honestly convey how much he cares about her, no, it's to effectively ruin her chances at happiness and that is a logic I cannot understand. I was still feeling sorry for YR during the cooking competition ep 11where he silently observed all the subconscious rooting Jang Mi was doing for Ki-Tae, and during the karoke scene.
When he was still a pretty good sport about joining in as a fun 3some, and not making a big deal although he was inputing more and more how those 2 could be left well alone and not miss his prescence at all.
This episode was the first time I ever felt sorry for Yeo Reum, and when I did, it was in a big way. I felt so sorry for him during the cooking competition because he was the one who suggested it in the first place, and even though he didn't need any help, the judge is not supposed to be helping the contestants.
Then at karaoke, Ki Tae was so petty to cut off his song, and Jang Mi seemed to forget he was even there when she was singing her favorite song with Ki Tae. Even before he walked into the apartment, he could see them enjoying each other's company despite saying how happy they were to be rid of each other, and even though Jang Mi can hold her liquor like the best of them, it was sad how she drank for Ki Tae. Chandler ; I'm with you and well said Chandler.
I have just the same thoughts too and had replied on the earlier comment of this recap to harmonyfb before I saw yr comment here. And to panshel, yeah, poor poor poor YR but for someone to be so spiteful, sorry, no pity lho! I thought so too. Yeo-reum just took the opportunity when he saw one coz he knew he was losing her after hearing her confession. I'm pissed and relieved he did that actually. On the bright side, his relationship with Jang-mi is finally over. I agree with you!
I've been a big Yeo-reum fan and not because I think he's all that great, he's clearly very flawed. I just thought he was a great rebound for Jang-mi My problem was that Jang-mi and Ki-tae's growing affection made sense in terms of contract-marriage world you spend enough time together, you're bound to develop feelings but not in terms of emotional connection - at least not for Jang-mi, not when Mr.
I just felt like the show expected me to buy into the OTP simply because I was supposed to and I didn't. I'm sad Yeo-reum did this because now I can't blindly support him any more we already knew he was opportunistic but this was just hurtful buuuuuuuuut at least the show UGH.
It's no fun watching a show when you can't root for the main couple. It was really cute how they were both trying to take the blame, but I had to laugh at Ki Tae's backhanded compliments. He was all, "She's so easy to take advantage of, but I was the jerk who took advantage of her. Oh show, in the beginning I know you totally thought I expected Jang-mi to be there so that you could subvert my expectation with Se-ah showing up instead, but I was really hoping that since I actually DID expect Se-ah to crash his proposal, that MAYBE you would subvert that expectation and actually have Jang-mi show up, ya know, just for kicks.
But alas, that was not so. On the whole, though, I'm not that disappointed with how things turned out this episode, excluding Se-ah's involvement.
I'm not worried about how Ki-tae will react to this, not after seeing all he put into that proposal, I'm just sad it got ruined because it really was the sweetest thing. But I'm somewhat happy because I'd always hoped the drama would take the marriage sham to the point where Ki-tae's mom actually genuinely accepted Jang-mi OMG!
Loved them this ep! Favorite part by far! Because of all those things coinciding so perfectly, our leads were thisclose to just being able to go through with their sham for real, to the point where we could just barely imagine it all working out, and then that possibility is taken away thanks to Se-ah.
I think it's for the best that everything worked out the way it did because I'd much rather them get together with the truth out in the open anyway.
They're seriously adorable. And Ki-tae is a hilarious drunk! Also, something I like about the conflict they set up is that, at least, this isn't just a misunderstanding. Jang-mi may not really be a two-timer, but the consequences of the sham do have her come off as one, and have caused her to hurt Yeo-reum I still don't forgive what he did though! In fact, I have to say, the writers did a pretty nice job of setting up Jang-mi in a position where, even by the viewers, she could be misconstrued because she really was in that dicey position where she understandably had no clue what her feelings were.
I guess I'm just a little impressed because I wasn't expecting the writers to use her inadvertent and, for the most part, completely innocent "two-timing" in such an unexpectedly heart wrenching way.
Aug 10,   50+ videos Play all Mix - ?? ?? ??Marriage Not DatingMV ??? (Kim Na Young) - ??? ??? YouTube ?? ?? ?? - Ep ??? ?? - Duration: Jul 27,   Marriage Not Dating: Episode 8 by LollyPip. July 28, at AM. On to the ep, it was a very good one but men, i want my OTP together NOW!!! That last scene was so powerful. i half wished she had gone to Gi Tae instead of YR but i understand why she made that choice/5. Aug 11,   Marriage Not Dating: Episode 11 by LollyPip. Hey all! I'm covering both of this week's episodes of Marriage Not Dating while girlfriday is at KCON (so jealous!) so please bear with me, I'm not as super-fast as she is! Let's send her and javabeans our best wishes for a fantastic weekend and a safe return!. Ki-tae and Jang-mi aren't bound to their pretend engagement anymore, but /5.
Ki-tae's mom placed her trust in Jang-mi in this episode, to the extent where she even supported her as a sign of resistance to her husband, on the basis that Jang-mi would never treat Ki-tae the way her husband treated her. It was such a huge step for her and to have it be undercut by the revelation that Jang-mi actually wasn't sincere after all and could be just the same as him.
We know it's not as simple as that, but all in one episode they made me feel that forming and breaking of trust so well. So while I don't particularly enjoy this, I can at least appreciate that they set up the conflict in a way that has me feeling for all sides except Se-ah's, because she's craaaaazzy.
That despite between kind, empathic, full of spunk to help and all Well, remember what the shaman said - sitting on the fence is "the worst! I agree that this conflict is a very realistic setup. I liken it to someone who has been betrayed his entire life causing him to close himself off to the world. Then when he finally gathers the courage to open up to someone again, that person turns around and betrays him.
You just don't recover from something like that. Spot on. I'd say the same would apply to Ki Tae too. He'd just withdraw after being hurt twice. KT withdraws into his physical fortress, blocking off the world; YR withdraws behind his perpectual but inscrutable smile.
The 3 of them have baggage; but among the 3 - I would say Ki Tae and Yeo Reum are the most vulnerable, and would shut down and withdraw when hurt. Jang-Mi with her sunnier disposition, bounces back more easily. Even with deeprooteded issues, she tries and tries again, as we see with her parents. I wanted to hammer bricks at both Yeo-rim and Se-ah. I never found them too irritating or important, really.
But now they're not only meddling with Ki-tae and Jang-mi's relationship, they're actually ruining it. Se-ah in particular is insane. How can she possibly have the face to declare she just ruined his life and then ask him to marry her as if she's doing him a favor. Like WTF is wrong with her? Yeo-rim is just typical. He is the nice second lead who loses their head when they realize they're not the person first lead wants to be with.
So frustrating when I actually loved his bromance with Ki-tae and his friendship with both the leads. Anyway, how ridiculously awesome was that scene with Ki-tae's mom, Jang-mi and Psycho mistress? The latter is actually proud enough to flaunt about her affair with a married man! Talk about shameless But it really was so well executed. Too bad everything fell through so fast because I really would've fancied a few awkward bonding between Jang-mi and her future mother in law.
I love that this drama really relishes in cliches, but occasionally steps out of it to give us some really great character moments. One of my favorites about it is how the writers allowed Jang-mi to have as broken a family as Ki-tae has in some ways. We usually get situations where one of the main character has a perfect family and the other person learns what its like to be in that kind of home.
Here, both Ki-tae and Jang-mi's families are torn apart in different ways. Both aren't perfect by any means but somehow, being together makes things better, clearer and maybe even happier for both the families.
I feel like I still haven't figured out Hyun-hee. She seems like a gold digger but at points look sincere too. I'm not sure if she really is with Hoon-dong because of the money, baby or something else. But there's a whole lot of mystery surrounding her character which makes her very interesting even if they eventually go the obvious route. I'm super happy that Jang-mi has also admitted that she likes Ki-tae. They both make up for what the other lacks; I just hope they find their way to each other very soon.
This drama keeps getting better and better for me and I say this after watching episode I don't mind the angst at all because I trust the writers will continue with the story without dragging it too much. What's pretty epic about this drama is how it continues to be hilarious even in the midst of angst. That's difficult to do so hat off, show! It's also why I actually felt the deep-rooted sense of betrayal that both families experienced when finding out the truth in a way that I usually don't when watching contract romances.
Usually, the family finds the contract and that just means it's time for the respective couple's allotted separation time. But here, I actually feel how their lie hurt their families because being together actively made them happy Jang-mi's family or made them change for the better Ki-tae's. That girl is unbelievable. I knew from her absence during the episode that she was gonna show up at the end and mess things up.
I do not get anybody who tries to defend her. I have not detested a second lead girl in so long, and I'm kind of sad it's in a drama that felt like it was gonna be different from the norm.
She just needs to go, and I'm glad Ki-tae finally had the sense to tell her to never appear in front of him again. I totally agree with you about Yeo-reum. I have made it pretty clear how much I don't like him, but I still appreciated that he was on Jang-mi's side. That hug killed any so-so feeling I had about him, and pushed him into dead-to-me territory. I get that he's been feeling anxious since he first started seeing her attraction to Ki-tae, but she was honest with him, and instead of being decent and accepting, he pulled a dick move.
He and Se-ah both are just so selfish. They want these two people who don't want them, and in one go, they destroy two families without any thought. Yes, Ki-tae and Jang-mi shouldn't have let this ruse go on so long, but it was their secret to keep and their secret to tell. No one else's. I was so happy to see progress made on Jang-mi and Ki-tae's mom's relationship and hated that it was taken away so quickly. I think the last time I hated a female second lead this much was Sena in Rooftop Prince.
We'll have to wait and see how this shows ends to determine which girl I end up hating more. But at least Se Na wasn't pining after Tae Yong. She had her own man Tae Mu to be obsessed with. I hate second female leads more when there is a love triangle and she is manipulatively keeping the OTP apart.
Se-na is an evil sister but she wasn't pining after the male lead. Se-ah's character here is almost the same with the second female lead in old drama 'All About Eve' played by Kim So Yeon.
Truly hated her in that drama! I've refreshed db's page for God knows how many times. Thank God it's finally here. Thanks LollyPip! I am talking to you both, Se-ah. But telling him off to mom is something on a entirely different level of bad. And after doing so she still had the face to ask Ki-tae to marry her? Jesus, do the writers really have to write her character to be this shameless? Oh and Yeo-reum. And with that knowledge, I thought he was going to step back for real despite his sometimes spiteful comments here and thereif Jang-mi really decides to woman-up and confess her feelings.
And when she finally does, he DID that. Did you really have to put mom in there, out of everyone, to watch them. Oh, the strings you pull, drama. She was so awesome today. I almost peed my pants the whole time she did that. But the thing I feared the most happened, that she discovered about the fake marriage, AFTER she actually accepted Jang-mi and embraced her.
Because it would be much much harder for her to trust Jang-mi again. I non-stop cheered for Ki-tae and kept on getting moony eyes, swooned here and there everytime he silently mumbled and kept his feelings hidden to himself.
Because that was just too cute and adorable to handle. Maybe even more so. Seeing her finally coming to her senses the scene in her bedroom was so swoon-worthy, I actually got butterflies when she finally admits to herself she likes Ki-tae for real. But the show stealer in this episode is definitely Yeon Woo-jin.
I would eat him up if I could. Please, please, drama Gods, bless my heart because I can take no more angst. S : The whole cook-off, drink-off, and sing-off scenes were so priceless. As much as I hate Yeo-reum right now, I Dude, I know. The series of bashful looks Ki-tae gives when coming out in her dad's clothes This was possibly my favorite episode of the series! I was SO glad to see both Jang-mi and Ki-tae confront their growing feelings for each other. Is it weird that I was actually more heartbroken for Jang-mi's relationship with Ki-tae's mom at the end of this episode, than I was for Jang-mi's relationship with Ki-tae?
That was hilarious, I was fistpumping momma the whole time. And the scene after, where she broke out laughing, was one of the most heartwarming of the series. I should've suspected then and there that everything would come crashing down on us! In spite of the heartbreak hotel that is in store for us next episode which: oofI am actually grateful to have everything out in the open, finally.
Only now can Jang-mi and Ki-tae build an honest relationship from the ground up. I'm interested in seeing where the plot goes from here! Not too many tears, please, show! That scene when Ki-tae's mom broke out laughing I swear, my heart grew a thousand sizes.
Except not, like, in a medically dangerous way. I'm so glad you say that because it reminds me that I've been remiss in this area Kim Hae-sook is magical. Loved Ki Tae's mom smack down with her husband's skanky mistress. Finally, she let go of her icy exterior and beat up the mistress which she heartily deserved. There is something funny about a dirty fight between women Also, the scene with Ki Tae's mom and Jang Mi together laughing and probably brought them together at least temporarily.
Ki Tae's mom had a cathartic effect on her bottled up emotions.
I was laughing so hard because I haven't seen such a funny hair pulling scene in these dramas for quite awhile. Se Ah is a smart and beautiful woman that most men would treasure, but she is crazy The man is suppose to propose, not the woman who has already been dumped down three years ago.
I thought Jang Mi was going to step trough the door any minute. Love the actress who plays her, but not her role. Im freeze, then my heart broke to pieces at jangmi and kitae's mom scene, in the end of eps. Damn u yeorumm!! Oh, momm. Jang Mi and Ki Tae were so adorable with their kind of matching coral shirts and was it just me or did anyone else tear up with the proposal?
Ki Tae has come such a long way and that entire set up and the effort was so simplistic bur so beautiful until Se Ah walked in. I had butterflies in my stomach as he prepared for the proposal as he went from being irritated at having to blow up all the balloons have you ever heard of a balloon pump? When he "confessed" to Nemo, I about died. He was so happy about it but when his face fell when he saw that damn woman, my heart breaks for him.
Oh you poor puppy. That hug, though, was very calculated. What a reward for Jang-Mi's frankness. Wow, Se-Ah just stepped into a whole other level of delusion there.
Tabtight professional, not sub marriage without dating ep 16 kisasian watch full episodes. Get the tv series with news from a dating of skinnygirl, not dating 11 preview 2. With characters not dating. Nonton drama marriage not dating, marriage not dating episode. New ep 11 and marriage not dating episode in episode 11 is inconsistent with episode. Marriage Not Dating, Not Dating, Marriage, Anticipate Marriage, Gyeolhoneul Gidaehae, Marriage Without Love, Marriage Without Dating, Watch Not Dating, Marriage, Anticipate Marriage, Gyeolhoneul Gidaehae, Marriage Without Love, Marriage Without Dating, ?? ?? ?? eng sub, Marriage Not Dating online ep 1, ep 2, ep 3, ep 4, watch Not Dating, Marriage, Anticipate Marriage, Gyeolhoneul. Watch Asian TV shows and movies online for FREE! Korean dramas, Chinese dramas, Taiwanese dramas, Japanese dramas, Kpop & Kdrama news and events by Soompi, and original productions - subtitled in English and other languages.
It's a failing on the writer's part I think that she's gotta be soooo bat crazy to draw out the marriage storyline, because she could've been made a lot more sympathetic even as a manipulator. Now she's just burned through every shred of sympathy anyone would've had for her her, and then some. Yeah, I can pretty much attribute every failing of this drama to the writing of Se-ah's character.
I'm willing to forgive the drama, not Se-ah lol to an extent because this certainly isn't the first bitchy second lead, but I think I just find it more jarring in this drama because I love what I love about it SO MUCH. I can deal with Se-ah and Yeo-reum even though they are nothing more than standard k-drama obstacles overcome on the path to true love.
In spite of this, I have found Yeo-reum unexpectedly charming. But that's the actor's charisma, not the way the character is written. But I could not be more bored by Mamma's Boy who could have been dispensed with after episode 1 from a plot point-of-view and Gold-digger why have a female best friend if she's not gonna be awesome - I've never seen a more pointless character in a k-drama than this one, and I like this actress a lot - it's the writer's crime.
Se-ah is giving me goosebumps, she does not deserve to be anyone else housewife. Thank you LollyPip for the recap and thank you for letting me know I'm not the only girl that right now can't stand Yeo Reum Even if he's pretty he crossed a line that one should NEVER cross, if you know the person you like has feelings for another then support them, let them grow without you because trying to force a relation ship in those terms will only hurt you more, while watching k-dramas I should be used to this type of personalities we all know we've seen them often but lately they had stopped turning up, so I was again miffed to see them come up in this drama.
Now I'm just sad for where we're headed, there is only two weeks left of this drama and I am not seeing the marriage part of it yet!!! Now on to mom, I felt really good for the strides forward we made with her, specially her beating the stupid mistress who obviously does not know her place, but for this we can blame the husband who 1st did not respect the marriage and 2nd did not let the mistress know she has no rights to berate the real lady of the house since she is the one getting in between them- I've always had a problem with mistresses who don't know their place!
I will say this about the drama in general, I still like it, but it has wound down for me a lot And I think it has to do with the fact that I miss seeing the old Jang Mi, yes she's shown herself a little lately but I miss seeing the woman who was relentless and who knew what she wanted and was not afraid of taking it, hopefully we'll see that character back soon enough I feel sorry for Yeo Reum.
It's true that what he did is wrong but I kind of understand where he's coming from. He tried his best to look the other way and be understanding of Ki Tae and Jang Mi's situation in the past few episodes.
Not a lot of people would react the way he did when they see their girlfriend kissing another man! I see this as his last attempt to try to hold on to Jang Mi. By the way, anybody knows the name of the song the Yeo Reum sang when they were singing in the karaoke bar? I'm going crazy looking for it. Choi Jin Hyuk sang it on Emergency Couple too. Thank you so much! Now I remember. I heard it in Emergency Couple too. It was easy to search for it that time coz CJH mentioned the title.
I was one of the few who thought, initially, that Se-Ah might be a little crazy albeit interesting when she was still in the 'I don't love you or want to marry you but I still want your sperm' territory. But the interesting went out the window and the crazy became full blown in the past couple of episodes. PS: Pity coz I actually think Sunhwa, as a person is extremely fun and relatable from all her variety show gigs- a total from Se-Ah.
So glad to see Mom starting to reclaim her self All the snuggles helped me to feel reassured as far as Ki Ta goes.
I also feel sad about what this means for Jang Mi's family's newfound happiness. Does anyone know the song that plays when Ki-tae is blowing up the balloons? I feel like I've heard it before and it's driving me crazy not knowing lol. I think they played it when Jang-mi and Yeo-reum were driving off to the beach at the beginning of episode 9. So that might be where you heard it from.
Someone on soompi said that it's the next OST to be released, but I'm not sure. Someone mentioned that it is Lee Seung-gi's Will you marry me. It played in episode 1 when Jang-mi was preparing to propose to Hoon-dong. Ah, no that's the song that plays in the cold open. I meant later in the episode when we see him preparing his place for the proposal. SING : surgery? I did the same! I love when he cuts Yeo-reum off!
So funny! Been reading mostly in silence these few weeks without commenting coz I didn't have time to think through my feelings for this drama super busy with my real life zzzz and pen-down my rants clearly. There are dramas which I loved for the storyline, for the cinematography, for the acting, or for the great directing. MND is 1 of the latter few. She can act, she is pretty hopefully natural, er hem and she plays the role of Joo Jang Mi with such tenderness and sensitivity that you want to hug her and pat her back everytime she messed things up with good intent.
Despite Jang Mi always getting hurt due to her naiveness or goodwill to do something for others, she never once hate or give up on those who betrayed her. So she continues to help others, and continues to get hurt. He genuinely wants her to change in order to stop her from hurting again and again. He plays the initially cold and cynical Gong Gi Tae who actually carries a huge emotional baggage which no one has ever tried lifting from his back.
Not even his so-called ex-GF and a friend of 20 years. This couple does not only understand each other, they are there for each other. Jang Mi for Gi Tae, when he almost died in his bathroom from dehydration. And many more instances when both needed each other and they instinctly show up to help. We can all see how naturally the 2 is together too.
Marriage, Not Dating Episode 11
They are comfortable with each other, hugging, holding hands, bickering, kissing etc. It felt so genuine. I see sincerity and I see heart. Actually, come to think about it, NONE Both of those also had the casual, genuine intimacy that I find so endearing, which Jang Mi and Gi Tae are slipping into.
I'm really looking forward to seeing how they interact once they admit how they feel to each other. Although I didn't actually at that time wanted them to become a real-life couple, their chemistry was sizzling on-screen! It's more like sex-appeal? The way they CARE for each other. I'm with you on this. I'm not quite sure exactly how it happened, but this couple has become one of my favorites of all time :. I know I've gotten it bad when I cry with them, laugh with them, angry for them, root for them, and love with them.
Usually, kdramas use all these stupid unecessary utterly BORING same storyline in an attempt to get viewers to empathize, sympathize or whatever with the OTP amnesia, 1 OTP's family killed the other's family, silly self-acrifices etc. This drama? Just the OTP themselves is enough for us viewers to root for them!
Yes, it's a show that you have to recommend to friends by saying - it's not such a great show but I promise you will love it just because of the leads. Witch's Romance, while having great GREAT side characters, had such a bad 2nd lead guy that could have ruined the show but the leads were so cute together that it's one of my favorite dramas. Until now I don't get Yeo-rum and Jang-Mi.
I mean I don't get how they end up liking each other. I feel that I missed one scene. I can't sympathize with his character or acting except for that scene last week on the beach. JM in my opinion only like YR cause he was cute, rebound guy and he said he liked her.
One evil-second lead is painful enough why must there be two!? She's manipulative but not as crazy as Se-ah. As long as she doesn't try to mess up with or seduced Gi-tae, it doesn't matter who she ends up with.
She can marry Hoon and have a dozen kids with him for all I care. After watching both episodes this weekend, Hyeon Hee is the one who gets my wrath. I can kinda see where Se-ah is coming from she is desperate and feels that this is her last chancealthough I don't condone her actions.
But Hyeon Hee, getting a man drunk, sleeping with him and then forcing him to marry her because she is pregnant with his child? Recipe for disaster! I think she is as every bit as evil as Se-ah. Good luck to her and her Mama's boy. There's a saying that "be careful what you wish for, cause you just might get it".
I wonder if the drama could fast forward a few years into their union to see how everything worked out for them.
Next related articles:
Dorn